The 2018-19 AAUW Kansas State Officers welcome you to a new year.  (add picture  2018-19 KS Officers)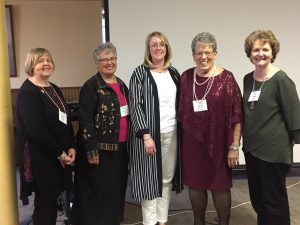 Pictured: Paula Shields, Secretary, Louise Ehmke, Co-President, Kristina Haahr, Co-President, Carol Kirchmer, Past Co-President, Tresa Landis, AAUW Funds. Not pictured: Marjean Harris, Past-Co President, Carolyn Dwire, Treasurer, Jeannette Earles, Bulletin Editor, and Lynnette Redington, Communications/IT.
It is with a heavy heart that we share the passing of Past AAUW KS Co-President Carol Kirchmer. Her sudden death in July has left many of us stunned and picking up some large pieces in our AAUW pie.  She will be missed.