Kansas Star Branch
American Association of University Women

Become a Kansas Star Branch and be recognized for your achievements at the Kansas Annual Meeting.  It is not necessary to have achieved all the Stars, simply document what accomplishments were made this 2017-18 year.   You may attach related documentation (newspaper articles, meeting announcements, photos, flyers, print of Facebook page, etc.). Deadline for submission is April 14, 2018. Recognition will be given at the AAUW Kansas Annual Meeting on April 28th in Wichita. Submit application to:   Louise Ehmke, Program Chair, 74 W Rd 130, Healy, KS  67850  or vlehmke@st-tel.net.
---
2018 Kansas AAUW  State Conference
Saturday, April 28, 2018
8:30 AM – 2:45 PM
Come refuel your AAUW tank and enjoy the reunion in Wichita, KS!
ROAD TRIPPING WITH KANSAS AAUW is the theme of the 2018 AAUW State Conference (formerly called the Annual Meeting) on April 28 at the Lorraine Avenue Mennonite Church, 655 Lorraine Ave, Wichita, KS.
Program highlights include these outstanding speakers:  Kristina Haarha, "Road to Advocacy," the story of Mary Lincoln and her fight for women's rights and the rights of patients declared mentally ill in the late 19th century; Carly Miller, winner of the 2017 Kansas AAUW State Board NCCWSL scholarship; Dr. Natasha Stephens, Title IX Coordinator at Wichita State University, and a representative from National AAUW, not yet named.
Please share this information with your friends and plan for a carload of women for a road trip to Wichita, KS.  One car from each Affiliate (Branch) will receive mileage reimbursement from the Kansas AAUW State Board.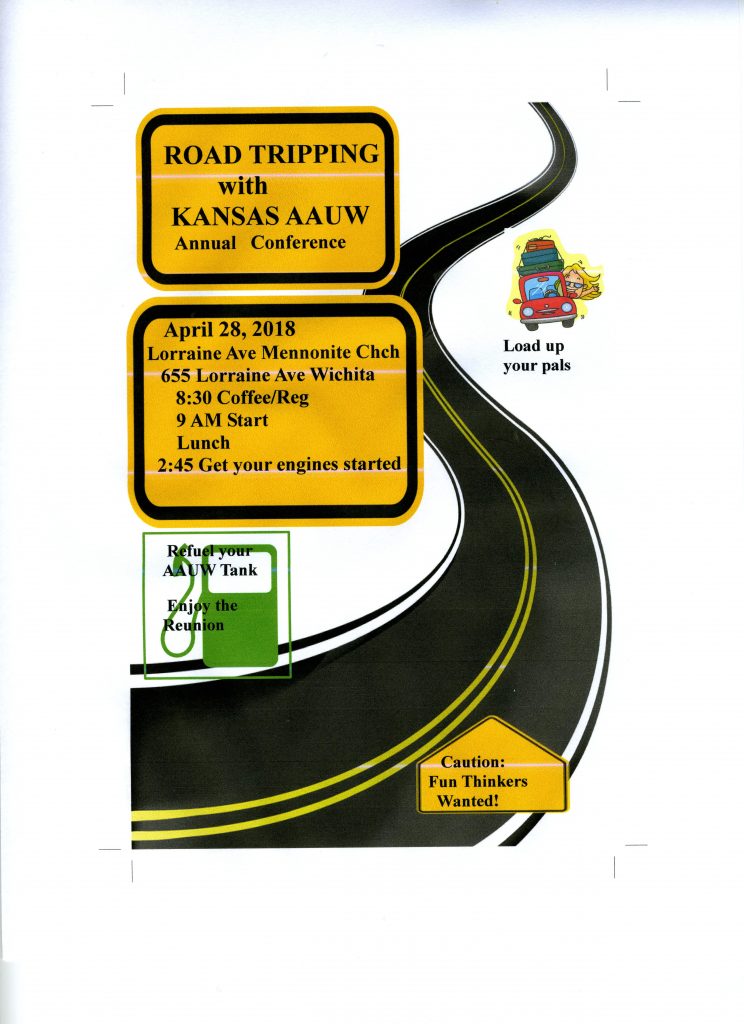 ---
NCCWSL Scholarship Application
The American Association of University Women (AAUW) National Conference for
College Women Student Leaders Scholarship (NCCWSL) Scholarship application is for one college woman to attend the NCCWSL conference held at the University of Maryland, College Park. We encourage you to share this NCCWSL application with all eligible college women in your community and assist them with the application process and registration for the NCCWSL conference, if appropriate.
The Kansas AAUW State Board voted to assist the NCCWSL Scholarship winner with conference
expenses up to $750 to attend the nation's premier leadership conference for college women.
Students who attend this conference share that it is a transformative experience. NCCWSL prepares college women to be the next generation of leaders and help them make their future what they want.
To make more copies go to http://aauw‐ks.aauw.net/scholarships/ 
The deadline for electronic submission for this NCCWSL scholarship is March 10, 2018 with
March 23, 2018 as the estimated date for the announcement of the winner.
Click here to download the application. 
Please direct your questions along with completed applications to: aauwksscholarships@gmail.com
Thank you for your assistance to send a Kansas woman college student to NCCWSL!
---
Hello Members and Friends of AAUW
We are pleased to welcome your interest in the American Association of University Women. Through our mission, AAUW advances equity for women and girls through advocacy, education, philanthropy and research.
Our nonpartisan, nonprofit organization has more than 170,000 members and supporters across the United States, as well as 1,000 local affiliates and 800 college and university partners.
Since the founding of AAUW in 1881, our members have examined and taken positions on the fundamental issues of the day.
By joining AAUW we belong to a community that breaks through educational, economic, social and political barriers to advance equal opportunity for all women. Explore these benefits to you and your community.
The American Association of University Women (AAUW) is a powerful community that breaks through the barriers facing women and families today. Our work — in the classrooms, on college campuses, in courtrooms, and on Capitol Hill — has touched women both individually and collectively, and its impact continues to spread across the country and throughout the world.
You are cordially invited to join the women of Kansas in our journey toward equality.
Carol Kirchmer and Marjean Harris
Co-Presidents, 2016-2017